Economy of Francesco UK Hub 🇬🇧
EoF Global Event 2 October 2021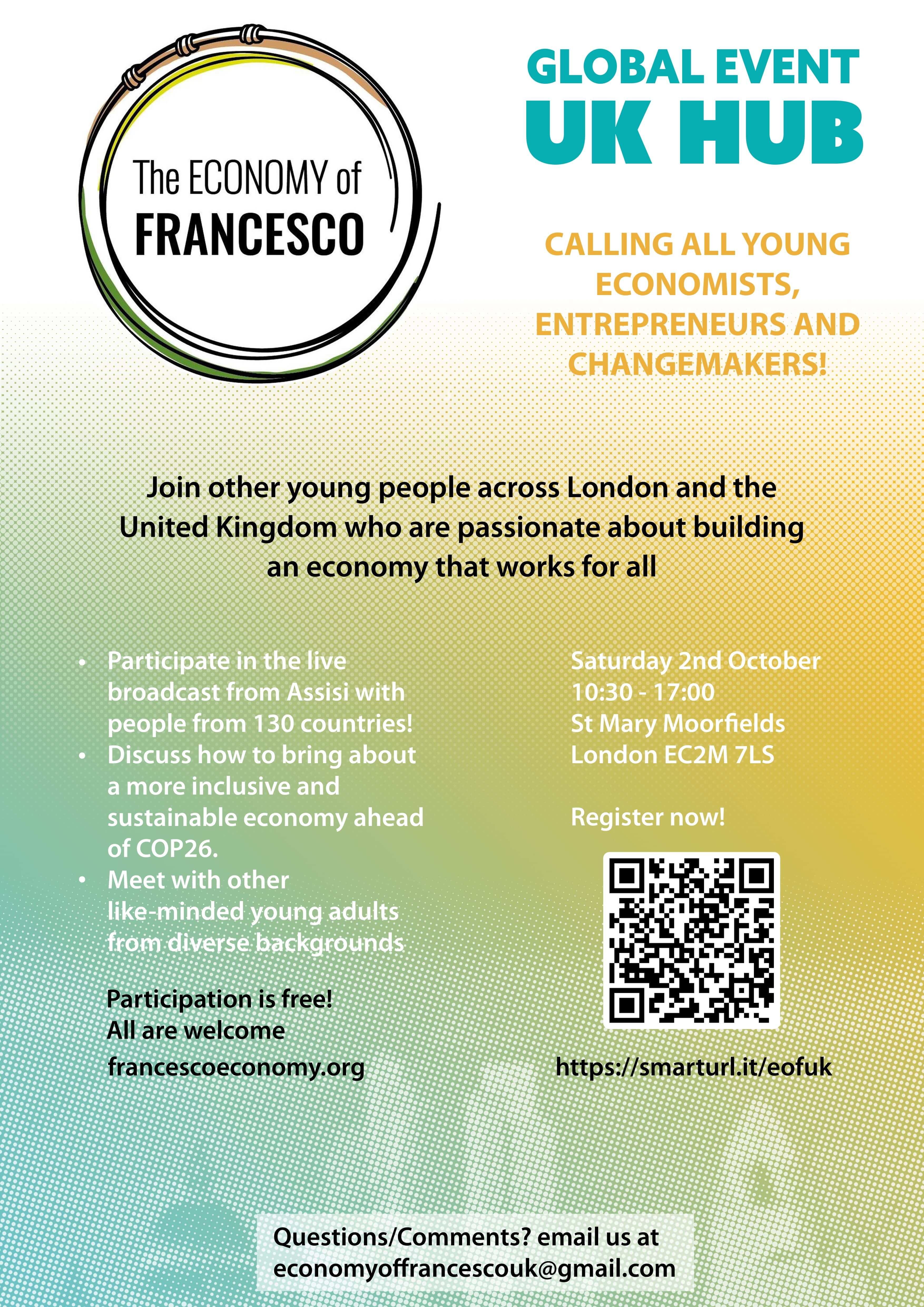 On Saturday, 2nd October, young adults from 130 countries around the world came together as the Economy of Francesco to build an inclusive and sustainable economy that works for all. We held a local event at St Mary Moorfields in London – an opportunity to make friends with other young adults to build an economy that is inclusive, human-centred and cares for the environment.
Programme
Arrival and coffee
Kick-off and introductions
Local workshop
Lunch and broadcast from Assisi
Vigil Mass to conclude the Season of Creation
Review of the day
On 2nd October, the second meeting of the Economy of Francesco took place – and 20 young people in London and across the UK met at St Mary Moorfields Church in the City of London – alongside their peers in 40 Hubs all around the world – to share ideas for bringing about an economy that works for all.

Our Hub was a global, diverse group; we had representation from 15 countries across four continents; and young people representing different sectors: bankers, civil servants, academics, climate specialists and students.

In the morning, Dr Roberto Pasqualino, Research Fellow at the Global Sustainability Institute led a workshop on helping participants understand things from a systems perspective – and reinforcing feedback loops and intervention points that can help bring about exponential change. This is absolutely essential for young activists looking to change the present economic paradigm, whether it is bridging business profit and vocation; finance in the service of humanity, or changing lives and lifestyles; topics that have been covered as part of the twelve thematic villages of the Economy of Francesco.

In the afternoon, we joined the global event, and greeted Assisi and the world – explaining how, being gathered in the City of London, we are creating a new soul for the global economy right from the centre of global finance. Through this, we also discussed how we could, through individual and collective action, begin to bring about change.

Participants were asked to consider "what would you do differently after today". Young people responded with wanted to 'make visible' the spirit of St Francis to care for the poor and for creation through engaging the most vulnerable in our community on the streets of London; as well as consider how our individual pension and investments can make a huge difference collectively if it is sustainably invested.

Proceedings were brought to a close with a celebration of Mass led by Rev Fr Christopher Jamison OSB, Abbot President of the English Benedictine Congregation; with readings chosen to enable the young participants to nourish and reflect on the biblical underpinnings for a just, sustainable and solidarity-based economy.
The following set out some resources from the day:
Slide deck
The slide deck from the day can be downloaded or viewed here:
Workshop
The workshop, led by Dr. Roberto Pasqualino from Anglia Ruskin University, explored the concept of self-reinforcing socio-economic forces that operate as catalyst or threat to social change. We applied the concept using the themes of the Economy of Francesco.

The slide deck from the workshop can be downloaded or viewed here:
Greeting from London to Assisi